I.A.T.S.E. LOCAL #19 PAST EVENTS AND CLASSES
LOCAL 19 ATTENDS
the
31st Annual Cope Dinner
to benefit the MD AFL-CIO

Guest Speaker: Nancy Pelosi

Wednesday, April 4, 2012
Pimlico Race Track
LOCAL 19 SUPPORTS
VERIZON WORKERS

CWA - DAY OF ACTION
Verizon Workers and the Struggle of Middle Class Workers
Thursday, March 22, 2012
Verizon Building
99 Shawan Road
Hunt Valley, MD
Rally for AFSCME
Towson Courthouse
Monday, March 19, 2012

Thanks to our volunteers:
Walter Reiger, Mike Casper, Melissa Anderson, Mike Guyer, Mark Sellman, Bruce Holtman Sr.
AFL-CIO NIGHT IN ANNAPOLIS
Monday, February 27, 2012.
Mike Casper, Clint Foster, Bruce Holtman Sr., Melissa Anderson, Jonathon Molock, Bruce Holtman Jr. and Bill Wallace
---
---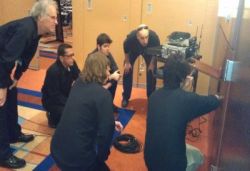 AV SETUP CLASS
February 23, 2012
I.A.T.S.E. Local #19
15 Local #19 Members and Causal Workers were in attendance
Presented by PSAV and Local 19 at the Hilton Hotel in Downtown Baltimore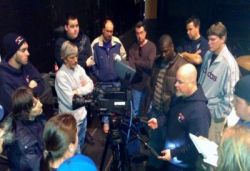 CAMERA OPERATION CLASS
February 21, 2012
I.A.T.S.E. Local #19

Presented by Rob Brubaker and PVG
at the Patricia and Arthur Modell PAC
Special thanks to everyone who attended the
RALLY FOR JOBS
and assisted with the stage setup on January 16,2012 in Annapolis, MD.
Local 19 volunteers included: Bruce Holtman Sr., Bruce Holtman Jr., Chuck Lamar, Michael Casper, Bill Wallace, Bill Ernst, Perry Ziegler, Ryan Pervola, Andrew Holtman and Melissa Anderson.
Special Thanks to Bob Hayes for providing equipment.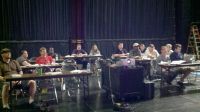 CPR CLASS

July 11, 2011
Hippodrome Theatre
15 Local 19 members and Casual workers were in attendance
Instructor: Doug Vaughn
---
CUSTOMER SERVICE TRAINING CLASS

February 15, 2012
I.A.T.S.E. Local #19
38 Local #19 Members and Causal Workers were in attendance
Presented by PSAV at the Hilton Hotel in Downtown Baltimore
---
RESPECT, RIGHTS, REVENUE
Monday, March 5, 2012
Lawyer's Mall, Annapolis
SPECIAL THANKS TO THOSE WHO VOLUNTEERED TO SET UP GEAR FOR THE AFSCME RALLY IN FRONT OF THE STATE HOUSE
Bruce Holtman Sr., Clint Foster, Larry Sheckells